Interviewing Julien Guyot
How did you come to be involved in The Noise Who Runs?
Thanks to the magic of the Internet ! I stopped my former project in summer 2019, and as the months went by, I got bored. So I decided to post an ad on some musician websites, looking for a serious project with complete genuine songs, because I didn't want to be involved in a cover band. I really wanted to be part of a creative project, write songs and push this music forward on stage and releases. So it was Gerald who saw my post and contacted me. We had a very cool phone conversation about what he was looking for: as a bassist, he felt pretty alone in the rhythm section as the band was using some backing tracks for the drums. He really wanted to get a real drummer involved, so he lobbied to look for one. He introduced me to Ian's music, which I connected to instantly, and I was very surprised to learn that Ian wrote Sneaker Pimps' lyrics, as I was a long time fan. So I was both very excited and nervous to join them at the rehearsal, because I really wanted to be part of this project and not fuck up the drum parts. I rehearsed at home and, when we did the first rehearsal, Gerald said that it was the first time they managed to finish a song without stopping it :D. Felipe and Ian were happy too, and here I was!
What were the plans for TNWR before the coronavirus 'confinement'? Was it disappointing to have to stop working on the debut album with it so close to completion?
The plan was to finish the mixing of the debut album, and rehearse to play it live, just as simple as that. We just recorded all the drums at the Salvador Allende's studio at Mons en Baroeul, and we were very happy with it, since we were using virtual drums or loops. Ian was about to go to London to record the voices, and get back to finish mixing and mastering the songs. Then the coronavirus showed up in France, and I was like : "Please Ian, don't go to London, we don't know if you could come back to France, they are closing the borders now!" Ian, as he used to be, was very optimistic with the situation "It's alright, it's just for a week, what could go wrong?" And they closed the border and declared the confinement.
So yeah, the album is paused for now, but that doesn't mean we have to stop working on our music. Ian wrote all those cool songs that the situation inspired in him, and sent them to me, to see if we could make some kind of quick project to release online. I'm a slow worker, so it wasn't as quick as we wanted to!
Can you explain your approach and technique with the songs? Ian sends you a demo in various states of 'repair' and then? So from the first listen and the first opening of the GB files….?
We installed some kind of a routine : Ian sent me some draft projects on Garage Band, I worked on the music production and sent them back to him via WeTransfer, and then he sent me some adjustments etc. until we were happy with the result.
When I first listen to Ian's draft on the Garage Band, the first thing that comes into my mind is to clean, and isolate the main idea of the song. Ian has a tendency to put EVERY IDEA he has on a song into it, so it's really a kind of a big mess I have to unravel!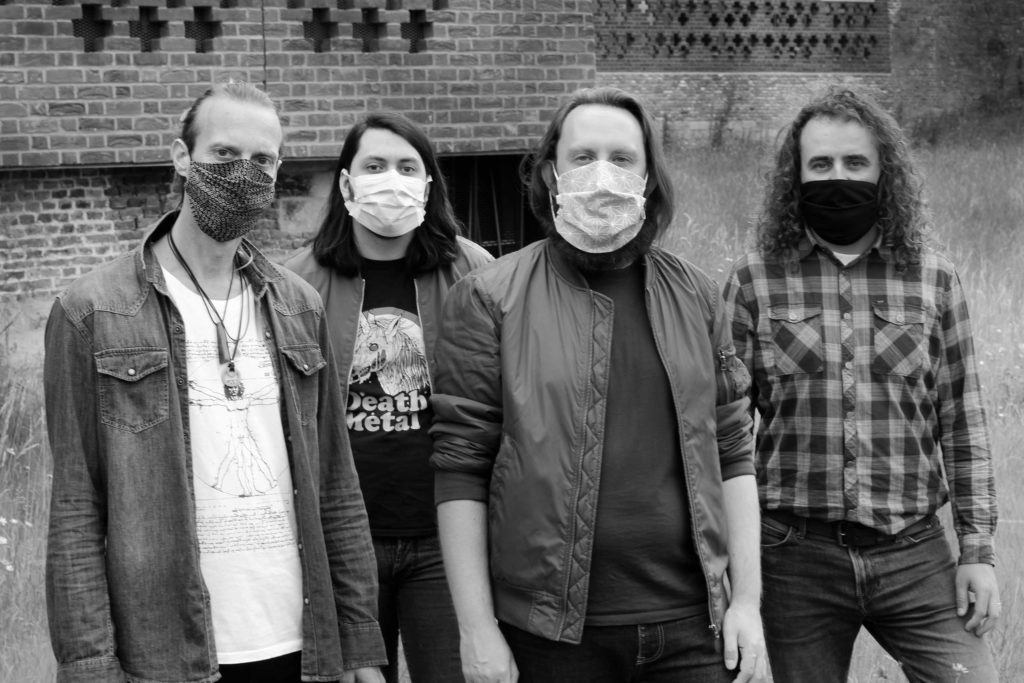 I export every stem into Ableton Live and I start to play around with things, trying to define what is the main lead of the song. When I understand the core of the song, as it could be the bass line, a groove, a hook, anything, I focus my attention on it and try to work the music all around this feature, without forgetting to push the vocals forward to emphase Ian's lyrics. The rhythm of the lyrics looks a lot like an instrument, so it's very easy for me to play around with them and adjust melodies and rhythms around this lead.
Is there anything you watch out for in the demos? Ian is a lyricist, after all, more than a musician.
I'lI focus a lot on the groove of the song, whatever that groove can be. If I don't shake my head when I listen to the song, I start over. I also try to craft a story that matches the lyrics, with each instrument as a character with different interactions and interventions. Sure, you can go all in your face with a big thing in the intro, just like an action movie in medias res, but that's not what we want to create here (at least, not yet!). There are a lot of tensions sometimes in the beginning of the song, like in So It Goes, or Things Fall Apart. The more instruments come in, and we understand a bit more where the story is going. Of course, there has to be some hiccups, or we get bored, that's where the story of the music and lyrics matches as a whole adventure.
The demo to So it Goes is VERY different to the finished version on the EP? What was your thinking on this song?
I have to listen to the first demo Ian sent me because I really don't remember how it looked like! (I don't have a good memory too, Ian knows how much he has to repeat the same thing to me two or three times!)
(After listening) Oh yeah, this weird drill-like drum beat at the beginning! There's that groovy bass and piano chords that were really in phase with the vocals so I wanted to keep that vibe, so I just played them with synthesizers, to give a more cold sensation. But the drill-drum, well, it was very distracting, and I wanted some kind of a more machine drum but more discreet too, to keep this tension and make the groove come more and more through the song.
The trip-hop beat was good, so I wanted to keep that too, but introduce it later in the song, after the "No Future" section to give a new breath at this point, a new beginning, like in the lyrics.
As every time Ian introduces me to a new song, I instantly connect to it. It's just as simple as that. Then I dive into the lyrics. Because I'm not an English native speaker, I have to really pay attention to the meaning of the songs, and layer after layer, I begin to understand what Ian wanted to express (and I ask him a lot of questions about them too!)
Which song on the EP gives you the greatest satisfaction as regards your production and instrumentation of it?
I really loved to work on Things Fall Apart. As a huge fan of moody, trip-hop songs (as Steven Wilson said "sad songs makes me happy"), I really deep-dived into these tension-resolution parts, and gave some space for the strings before the break part. I like the way the bass plays around with the drum, around and around ;). Yeah, I definitely had fun making that moody song!
And what song is your favourite on the EP? Maybe it is the same song?
Impossible choice, because they're all different, and I like each one of them for what they are. You can't just have children and say "this one is my favourite" without being heartless! I like the EDM vibe on Smile, Smile, Smile and the weirdness of So It Goes. That song is a bold choice for opening our very first release, therefore it has such a strong statement and summarizes what The Noise Who Runs' statement is. I really love Zoe's Edible Garden too, it's so unexpected to get a brit-pop song in this EP, and it's very fresh, I just can't wait to play it live!
What can we expect from EP2 and EP3?
Expect the unexpected! More seriously, EP2 is the very continuity of EP1, there are very cool and groovy songs in it, with very dark groovy tracks, and more lighter ones. EP3 is different though, as it wasn't part of the original plan, but Ian wanted to make a third part since he always keeps writing, and there was a kind of hole in this project. So yes, EP3 will be very different, with some surprise guests (or not, I can't say more for now!).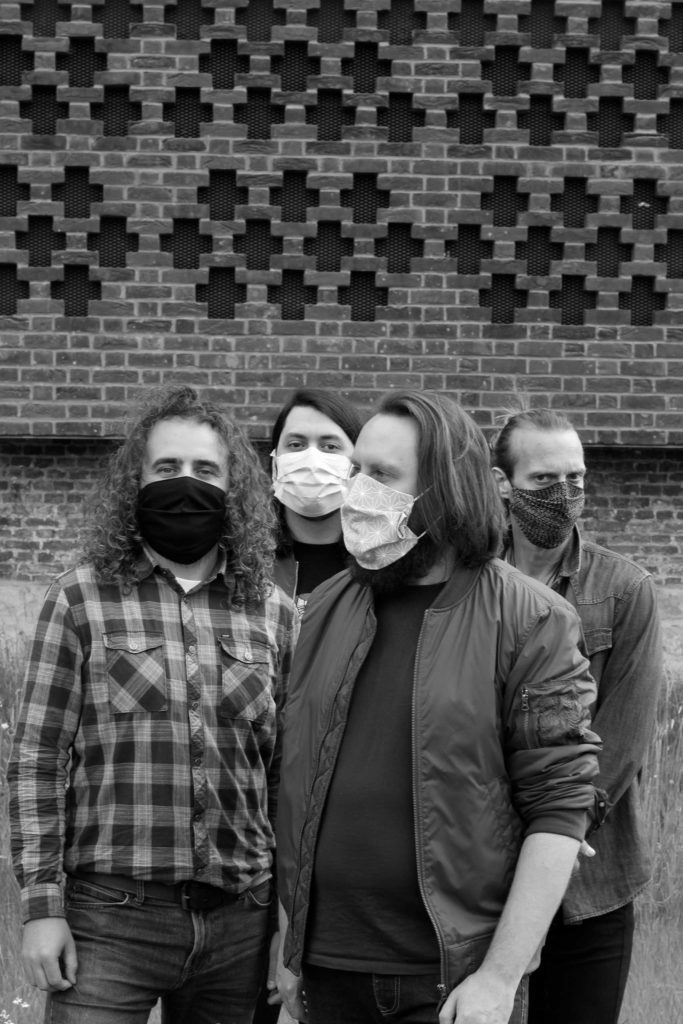 You are the one ultimately responsible for producing and finalising the artwork and the visual elements of TNWR? Can you tell us a little about the artwork for EP1?
Ian explained how the cave hand was the human's oldest signature on Earth, and how it mattered to him as a legacy. It's important to know where you come from if you want to know where to go, or something like that… So I worked around this hand (a left hand, that's important, and no, I didn't reverse the picture to make it a left hand, that's a rumor!) and try to remain as simple as possible. That's my main motto all the time : "less is more". So I kept the hands all around, as traces of connections between who we were and what we are going to be.
I think those hands will follow us for a while, because they are so expressive, body language is 70% of the meaning of a message, so keep tracking them in our future releases.
Is there any reason why Ian uses GB and you use Ableton Live?
Ian is not what we could call a tech guy, so he uses Garage Band because it's the most practical thing for him to lay his music and lyrics down. He has a Mac, there's GB already on it, he can easily record voices, add instruments quickly, and make his idea come true. You can even make a whole song on your phone! I don't like corporate bullshit statements but I have to admit that it's very useful to record your music whenever you want.
About Ableton Live? Well, I used a lot of DAWs and struggled with them, and then I started to work on songs with Live, and I never quitted it since! The more I use it, the more ideas come in my mind, and then in the songs. I love the way you can manipulate instruments, sounds, and automation to create new instruments, then that instrument will be sampled, modified, etc. It's infinite! It's like a modular synthesizer for your mind. You can program everything you want in it. And I am just talking about the sound design part : the session view is the simplest thing I've met to manage live sessions (that's the name of the software after all). As a drummer, I can launch every backing track, every sample with just one button if I want, and I can manage a whole show just with this. One software to rule them all! The community around Ableton is very benevolent too, there's a lot of meet ups organized around jam sessions and you can meet new people, learn new tricks and play live with them.